>
>

Multiplication Tables 1-12 Printable Worksheets
Multiplication Tables 1-12 Printable Worksheets
You should be no stranger to worksheets if you have kids in elementary school. Parents are usually at a loss at what age it is appropriate to introduce multiplication to a child because of the topic's complexity. Even despite disconnects in the learning process due to the kids' shorter attention spans, educators have found a way around it using worksheets.
These educational resources help kids work from home at their own pace and allow enough time. Understandably, teachers in conventional schools cannot keep up with the needs of every child in the class due to the necessity to complete the curriculum. Continue reading to see how much difference multiplication tables 1-12 printable worksheets can make.
How Do Brighterly's Tutors Use Multiplication Tables 1-12 Printable Worksheets?
Brighterly is an online learning platform with tutors ready to teach your kid math. Instructors introduce kids to household items they can use as hands-on activities. Teachers understand kids' needs to learn math early and use multiplication tables 1-12 printable worksheets to introduce toddlers and preschoolers to simple multiplications. These professionals use the worksheets to make understanding of math concepts easier.
Professionals know that kids must quickly remember essential information before they can handle more significant numbers or solve more challenging math problems. So, they use multiplication tables 1-12 printable worksheets in PDF to help youngsters get conversant with the entire concept of multiplying numbers 1 to 12 though pictorial depictions. The worksheets make multiplication easier for kids, and the latter can arrive at the correct answer faster.
Is Your Child Struggling With Math?
1:1 Online Math Tutoring
Let's start learning Math!
Tutors use these worksheets to teach kids that consistency and repetition are the keys to memorizing multiplication tables. Worksheets often come with catchy rhymes that help kids remember the multiplication facts smoothly. Even if parents are too busy to help their child, they can still pick up books and have a swell time with their recitals. By doing so, kids learn to be independent and gain necessary problem-solving skills.
The Reasons to Use Multiplication Tables 1-12 Printable Worksheets in PDF
Learning multiplication with times tables worksheets 1-12 is a fantastic way to improve cognitive abilities in elementary school. With the worksheets, kids can quickly develop their mental math skills and problem-solving abilities in a shorter time. For instance, if you give kids a complex multiplication problem like 8 x 90, they can use their knowledge of 8 x 9 = 72 to solve the answer as 720.
Kids will be able to learn multiplication tables and demonstrate this knowledge by using a time tables worksheet 1-12. Gradually, with the knowledge of the times table, they can tackle far more advanced topics, such as solving problems involving fractions and percentages and multiplying multiple-digit numbers. Children will memorize multiplication tables and division facts corresponding to each table. For instance, 10 ÷ 5 = 2, 2 ÷ 2 = 1, 8 ÷ 2 = 4, etc.
The worksheets serve as helpful resources for educating and testing students until they can do multiplication problems with high confidence. Since children will be working independently, they can easily pick up worksheets at their convenience and begin studying. Worksheets are convenient and fun and come with different pictures and activities that are sure to capture the interest of your little one. Investing in times tables worksheets 1-12 is the decision for which your child will definitely thank you.
Times Tables Worksheets
Trouble with Multiplication?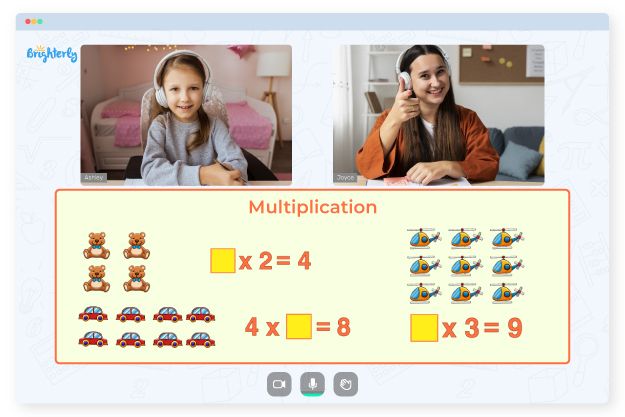 Is your child having trouble mastering multiplication?

Consider starting lessons with an online tutor.
Kid's grade
Grade 1
Grade 2
Grade 3
Grade 4
Grade 5
Grade 6
Grade 7
Grade 8
Does your child struggle with the basics of multiplication? An online tutor could provide the needed support.
Book a Free Class