>
>

Telling Time Worksheets Grade 2
Telling Time Worksheets Grade 2
Telling time might be uneasy to young minds. But the good news is that parents can use custom learning resources to help their children learn perplexing math topics like time telling. At Brighterly, you can download time telling worksheets for grade 2. These learning materials promote time telling skills through fun assignments and explanatory visuals.
Advantages of Using Time Worksheets for Grade 2
Learn about three advantages telling time worksheets offer to second-graders.
Telling Time Worksheets Enhance Counting Skills
Counting and time telling always go hand in hand – the second originates from the first. To read the clock, children have to skip count and count up to 60. It means your child will solidify their counting skills while practicing time telling.
Most importantly, students will learn to convert minutes to hours and vice versa. These activities help students achieve numeric fluency.
2nd-Grade Time Worksheets Improve Time Sense
Worksheets come in handy when you need to provide children with extra math hours.
Is Your Child Struggling With Math?
1:1 Online Math Tutoring
Let's start learning Math!
Children will practice time words, clock positions, and skip counting by completing fun assignments in the worksheets.
Eventually, kids will improve their understanding of the topic by learning to speak time terms comfortably.
2nd-Grade Telling-Time Worksheets Make Parents' Lives Easier
Children learn through fun activities and real-life examples. But if assembling a DIY paper clock is not an option for you, you can use worksheets instead. With explanatory visuals and fun interactive assignments, second-grade time worksheets will give your child the space to practice time units and a sense of achievement once they complete the drills.
Download Free Telling-Time Worksheets for Grade 2 in PDF
Access free printable time-telling worksheets from Brighterly's tutors. Just select the second-grade time worksheet you need and download it in one click.
More Telling Time Worksheets
Telling Time Kindergarten Worksheets
Telling Time Worksheets Grade 1
Telling Time Worksheets Grade 2
Telling Time Worksheets Grade 3
Time To The Hour And Half Hour Worksheets
Struggling with Time in Math?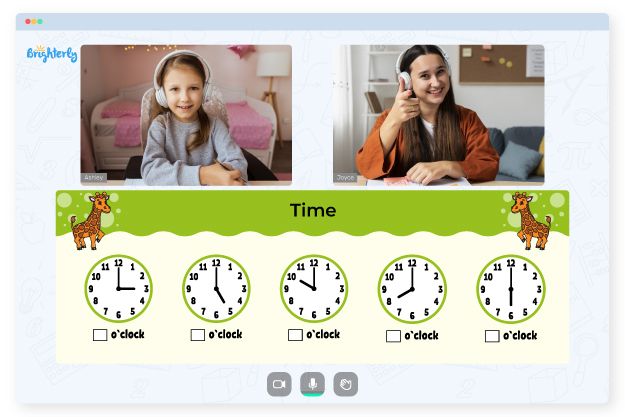 Is your child struggling to understand time in math?

Start lessons with an online tutor.
Kid's grade
Grade 1
Grade 2
Grade 3
Grade 4
Grade 5
Grade 6
Grade 7
Grade 8
Does your child find the basics of time in math difficult? An online tutor could be the solution.
Book a Free Class