>
>

Telling Time Worksheets Grade 3
Telling Time Worksheets Grade 3
Telling time can be perplexing to young minds, and they often need extra time to practice this topic in addition to the school curriculum. At Brighterly, parents can download printable learning resources like time telling worksheets to improve their children's time telling skills and numeric fluency.
These learning resources contain descriptive pictures, games, and puzzles that boost time sense in children.
Advantages of Using 3rd-Grade Telling Time Worksheets
Time-telling worksheets for grade 3 provide several advantages to third-graders and their parents.
Time-Telling Worksheets Improve Counting Skills
Children often get rid of difficulties with skip counting until they learn to tell time on the clock. It happens because time telling involves skip counting by fives. The same goes for time worksheets – kids practice different counting activities when completing worksheet assignments and solidify the associated skills in the process.
Time Worksheets for Grade 3 Reinforce Time Concepts
Is Your Child Struggling With Math?
1:1 Online Math Tutoring
Let's start learning Math!
By giving your child time worksheets, you can rest assured they practice time concepts enough. Brighterly's worksheets provide children with math assignments to reinforce knowledge of hours, minutes, seconds, months, weeks, time of the day, and more.
By working with these learning materials, students can gain enough experience to speak about time confidently.
Time Telling Worksheets Improve Attention Span
Worksheets are learning materials designed with entertainment in mind – interactive activities and math puzzles bring more pleasure to children than regular homework.
Since children naturally focus on things they like, they can focus on worksheets for a longer time, training their attention capacity to digest learning materials.
In this way, kids develop their attention span and get used to focusing on home assignments for longer.
Download 3rd-Grade Time Worksheets at Brighterly
Get free downloadable time-telling worksheets for your third-grader. At Brighterly, you can get these learning materials for free without sign-up hassle. Just select the printable PDF file of your choosing and download it for your convenience.
More Telling Time Worksheets
Telling Time Kindergarten Worksheets
Telling Time Worksheets Grade 1
Telling Time Worksheets Grade 2
Telling Time Worksheets Grade 3
Time To The Hour And Half Hour Worksheets
Trouble with Time in Math?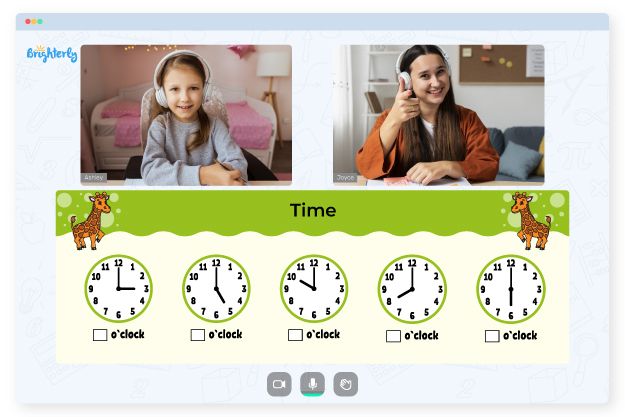 Is your child struggling to keep up with time in math?

An online tutor could be the solution.
Kid's grade
Grade 1
Grade 2
Grade 3
Grade 4
Grade 5
Grade 6
Grade 7
Grade 8
Does your child find understanding the concept of time in math challenging? Start learning with an online tutor.
Book a Free Class