>
>

Telling Time Worksheets Grade 1
Telling Time Worksheets Grade 1
Teaching time telling to first-graders might be challenging. However, at Brighterly, you can download time worksheets for grade 1 that are designed to help parents teach time to their children.
Brighterly's worksheets contain colorful interactive assignments that teach time units, time of the day, and more.
Advantages of Using First-Grade Time Worksheets for Grade 1
Time-telling worksheets for grade 1 offer three advantages to students.
Time Telling Worksheets Facilitate Understanding of Time
Telling time worksheets for grade 1 explain the topic using descriptive visuals of the analog clock and clock hand positions.
These learning materials allow children to understand how clock hands move to show a particular time.
Additionally, worksheets with interactive games help parents set a friendly learning environment for their children. Consequently, a stress-free setting improves attention span and allows children to focus on the topic better.
Is Your Child Struggling With Math?
1:1 Online Math Tutoring
Let's start learning Math!
1st-Grade Time Worksheets Teach Clock Hand Positions
Half past three – how to show it on the clock? What about quarter to six? Your children can practice clock hand positions like half past or quarter past/to by solving captivating assignments that seem like games rather than homework.
Time Telling Worksheets Facilitate Counting Skills
Telling time is a nice way to practice counting skills. In essence, telling clock hand positions equals counting by fives.
In the process, kids will learn to skip count by fives, memorizing that the clock face is divided into 12 five-minute sections.
Kids will also learn to read the double meaning of clock numbers, improving their unit conversion and counting skills.
Download Free Printable First-Grade Time Worksheets
Get free printable time telling worksheets for grade 1 from professional tutors at Brighterly. No subscription or sign-up is required. All you need to do is download the chosen document and use it at your convenience.
More Telling Time Worksheets
Telling Time Kindergarten Worksheets
Telling Time Worksheets Grade 1
Telling Time Worksheets Grade 2
Telling Time Worksheets Grade 3
Time To The Hour And Half Hour Worksheets
Trouble with Time in Math?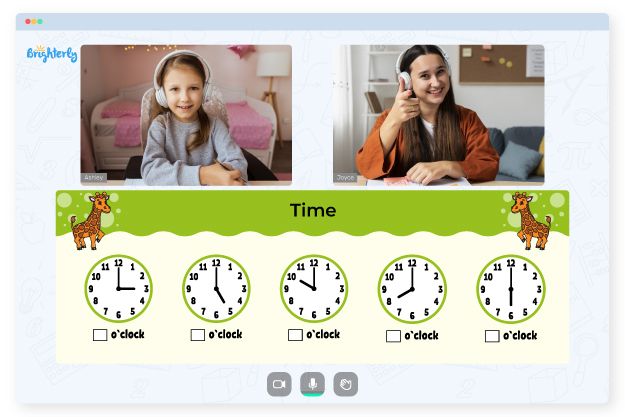 Is your child having trouble mastering time in math?

An online tutor could provide the needed assistance.
Kid's grade
Grade 1
Grade 2
Grade 3
Grade 4
Grade 5
Grade 6
Grade 7
Grade 8
Does your child need help understanding time in math? Start learning with an online tutor.
Book a Free Class