>
>

Telling Time To The Minute Worksheets
Telling Time To The Minute Worksheets
Children may face some challenges when telling precise time. After all, an analog clock shows numbers only from one to 12. But you can help your child learn the ropes of the analog and digital clocks with time to the minute worksheets designed with care and professional touch.
Brighterly's time worksheets contain various assignments to help children understand the minute's clock hand and determine the exact time.
Advantages of Using a Telling Time to the Nearest Minute Worksheet
Time to the minute worksheets offer a few advantages:
Telling Time to 5 Minutes Worksheet Deepen Understanding of the Topic
At first, kids learn the time of the day. Afterward, children move to the next level – read hours on the clock. Finally, children learn to tell time to the minute, and Brighterly's worksheets can help them master this topic with fun.
Is Your Child Struggling With Math?
1:1 Online Math Tutoring
Let's start learning Math!
Brighterly's worksheets offer engaging math drills with explanatory pictures and games that give children time telling practice combined with an entertainment aspect. After working on the time to the nearest minute worksheet long enough, your child will understand this topic better and tell the exact time without hesitation.
Time to the Minute Worksheets Save Time on Teaching Resources
You might have a hard time searching for teaching resources on the web. But you can browse no more as Brighterly's time worksheets contain simple assignments about minutes on analog and digital clocks. Print these learning resources and save hours on googling for clock pictures and relevant math tasks.
Download a Free Telling Time to the Nearest 5 Minutes Worksheet at Brighterly
You can get printable time to the minute worksheets at Brighterly for free. Open the page with worksheets and select the one you like. Open it, download it, and you're good to go.
More Telling Time Worksheets
Telling Time Kindergarten Worksheets
Telling Time Worksheets Grade 1
Telling Time Worksheets Grade 2
Telling Time Worksheets Grade 3
Time To The Hour And Half Hour Worksheets
Struggling with Time in Math?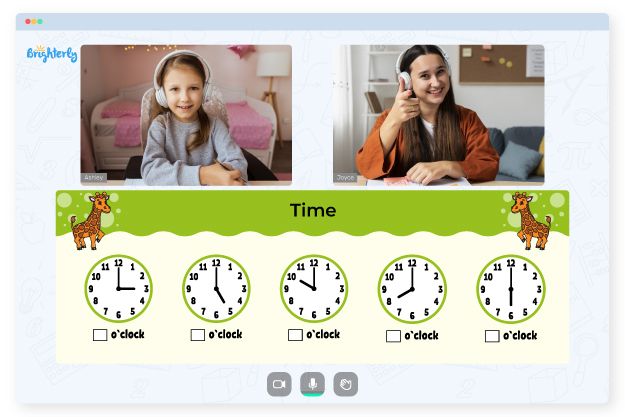 Is your child having trouble mastering the fundamentals of measurement?

Try studying with an online tutor.
Kid's grade
Grade 1
Grade 2
Grade 3
Grade 4
Grade 5
Grade 6
Grade 7
Grade 8
Does your child need additional help in mastering counting? Start learning with an online tutor.
Book a Free Lesson