>
>

Number Tracing Worksheets 1-10
Number Tracing Worksheets 1-10
When kids are between the ages of 3 and 4, they should be able to identify numbers 1-10. After identification, the next step should be writing the numbers. It would be nearly impossible for a kid to pick up a pencil and write the numbers in sequence. 
Children often need to learn how to trace the numbers before they can effectively write them without dots. Here is where number tracing worksheets 1-10 make their grand entrance. Read this article to discover everything you should know about the worksheets.
Why Tutors from Brighterly Use Number Tracing Worksheets
Brighterly is an online math learning platform with tutors that want the best for kids. The tutors use a number bonds to 10 worksheet because they understand that number tracing is an excellent way to identify numerals. After repeatedly tracing the numbers, kids feel confident about writing them independently. Instructors can improve kids' ability to recognize and form numbers by using various methods like playdough.
Is Your Child Struggling With Math?
1:1 Online Math Tutoring
Let's start learning Math!
A number tracing worksheet 1-10 can help youngsters develop muscular wrist movements for writing, penmanship, pencil control, and better number recognition skills. Studying with a number trace worksheet 1-10 can help students learn about the significance of fine motor skills and pencil control. The tutors go out of their way to customize lessons using the worksheets so kids can have a swell time while studying. With these tools, kids are in a better position to write the numbers themselves, which fosters their independence.
How to Use Number Tracing Worksheets in a Fun Way
Worksheets are meant to be a fun alternative to conventional textbooks used in the class. To make the experience more enjoyable, kids can use crayons to trace the numbers before they learn to write with a pencil. Also, trace numbers 1-10 worksheets offer kids fun activities from counting the number of cookies on the tray to writing the numbers with colorful chalks on the playground. 
Number tracing worksheets 1-10 are unique and can become a child's best companion since kids can learn without even feeling pressured. Youngsters think they are having fun; so, they get the best experience, unknowingly solidifying their math knowledge and skills.
Numbers Worksheets
Need help with Numbers?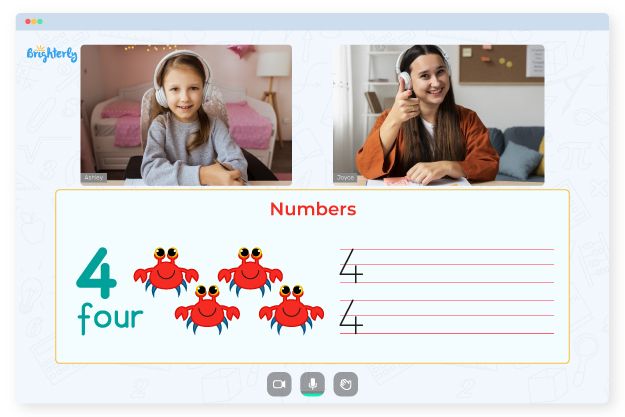 Does your child need additional help with understanding numbers lessons?

Start studying with an online tutor.
Kid's grade
Grade 1
Grade 2
Grade 3
Grade 4
Grade 5
Grade 6
Grade 7
Grade 8
Is your child finding it challenging to grasp the concept of numbers? An online tutor could be of assistance.
Book a Free Lesson