Number 10 Worksheets
Number 10 worksheets give teachers, tutors, and parents an excellent opportunity to introduce number 10 to children or reinforce the existing knowledge. They are perfect for developing number sense and number recognition skills in the classroom or at home. Here are some types of number 10 worksheets for kids:
Number 10 Tracing Worksheet for Preschool
Printable number 10 tracing worksheets for preschool help children practice number recognition and spelling. Tracing numbers one to ten will allow children to learn to write the numbers and also give them some fine motor skills practice. Worksheets are a fun activity for kids who are just learning to count.
Worksheets can improve kids' creative skills and make them enjoy learning with parents since educational process must continue even when school doors shut. Be sure your kid will enjoy tracing the number 10 with awesome tracing worksheets. 
Number 10 Worksheets for Kindergarten
Number 10 worksheets for kindergarten kids are a fun introduction to numbers. Counting to 10 is relatively easy for kids. You can print number 10 worksheets and make learning more enjoyable!
Practice writing number 10 with a printable version of a worksheet. Free kindergarten math worksheet is applicable in numerous ways. School teachers or parents who homeschool their kids can print, download, or use a free number 10 worksheet online.
Is Your Child Struggling With Math?
1:1 Online Math Tutoring
Let's start learning Math!
Number 10 Worksheets for Elementary School Kids
Number 10 printable worksheets are an excellent tool for introducing this number and reinforcing all the knowledge your kids have had so far.
Counting from one to ten is one of the first things children learn in preschool and kindergarten. By the time they start elementary school, children should be able to easily recognize and identify each of the numbers between 1 and 10. Here are some ideas for incorporating worksheets into your classroom:
Create a number word hunt. The goal of this game is to find number 10 or other numbers on each page of the worksheet. You can make this game easier by giving your child a list of numbers they should be looking for or simply offering them a set amount of time to find the numbers.
Another game is to create a number maze. You can ask your child to go through different rooms or areas and to draw or write the number 10 on each paper they find.
Number 10 worksheets for preschoolers are an excellent way to introduce young children to the basics of mathematics. These worksheets help them learn number recognition, counting, and basic addition and subtraction. They also assist in developing fine motor skills, such as tracing numbers, identifying shapes, and coloring within the lines. With the use of these worksheets, preschoolers can gain the confidence they need to develop a strong math foundation.
By using number 10 worksheets preschoolers also learn important problem solving skills such as sequencing and basic logic. These types of activities are essential in helping to translate abstract concepts into real-world applications. Through hands-on practice, children can begin to understand the relationships between numbers and how they can use them in their everyday lives.
Numbers Worksheets
Troubles with Numbers?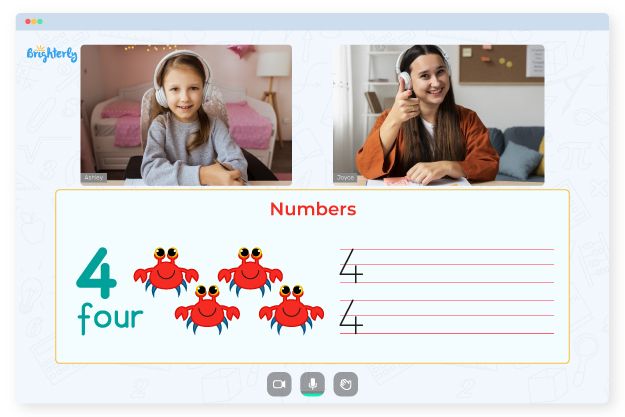 Does your child need additional help with numbers lessons?

Start lessons with an online tutor.
Kid's grade
Grade 1
Grade 2
Grade 3
Grade 4
Grade 5
Grade 6
Grade 7
Grade 8
Is your child finding it hard to understand numbers fundamentals? An online tutor could be the answer.
Book a Free Lesson