Number 18 Worksheets
Children can be easily distracted and need extra help to understand and grasp the concept of numbers fully. Preschoolers should be able to count from one to at least twenty to lay a better math foundation. To help your kids understand, identify, and count tol the number 18, keep reading to see how number 18 worksheets can be helpful.
Why Do Tutors at Brighterly Use Number 18 Worksheets?
Brighterly is an online website hub with professional math tutors who are adept at helping your kid learn math. The tutors help kids establish links and possibilities with everyday math activities like counting their fingers and toes, toys, crayons, pencils, etc. They understand the importance of learning math and do not relent in their teaching practices.
Is Your Child Struggling With Math?
1:1 Online Math Tutoring
Let's start learning Math!
At Brighterly, the tutors understand preschoolers' challenges while learning to write 18. Using a number 18 worksheet, they teach kids tricks to write the number. They can even time a child to help them write faster. A student will learn that stroke down, and the left and right curves will give 8, adding up to 18. They will also learn to identify the number in a lineup.
Why Use a Number 18 Worksheet?
Number 18 worksheets help kids identify double-digit numbers even outside the classroom. Learning with number 18 tracing worksheets helps kids write the number and understand its placement and significance on the number line. Mathematical ideas are easier to grasp when kids have a solid foundation. Using number 18 worksheets for preschool, kids can link numbers to different objects in their everyday lives.
Numbers Worksheets
Struggling with Numbers?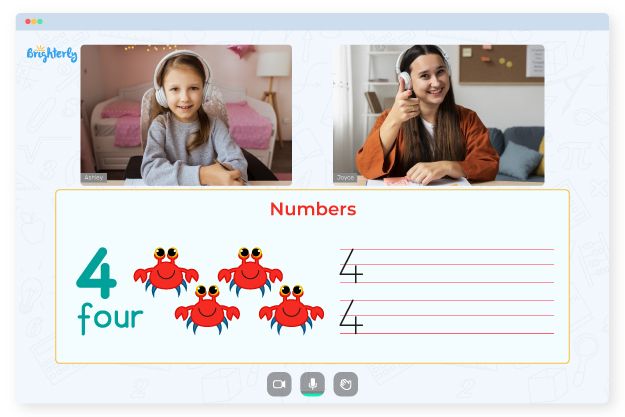 Does your child need additional support with the concept of numbers?

An online tutor could be the solution.
Kid's grade
Grade 1
Grade 2
Grade 3
Grade 4
Grade 5
Grade 6
Grade 7
Grade 8
Is your child having a difficult time understanding numbers? Start lessons with an online tutor.
Book a Free Class