>
>

Number Tracing Worksheets
Number Tracing Worksheets
Many parents consider tracing a straightforward process; it can help kids improve their ability to use hands and fingers with precision. A number tracing worksheet can help preschoolers work on their pencil grip and strengthen their fine motor skills. Continue reading to learn more about a number tracing worksheet.
Why the Tutors at Brighterly Use Number Tracing Worksheets for Learning
Brighterly is an online math learning platform for kids of all grades. The tutors provide a wide variety of free number tracing worksheets for children of preschool age to use while studying. Number tracing worksheets usually have traceable bold numerals for kids to start with before drawing numbers freehand.
Printable number tracing worksheets are terrific manuals for your kids to work on their number writing skills. Additionally, worksheets usually contain a few basic drawings to color and count, along with number tracings on each page. Tutors can provide kids with tracing numbers worksheets in PDF format to download and print later.
Benefits of Using a Number Tracing Worksheet
When it comes to improving your kid's motor skills, nothing beats tracing. When kids start writing, they appreciate penciling thoughts as another way of expressing their ideas. Here are some benefits of a number tracing worksheet:
Grooms kids' pre-writing abilities
With number tracing worksheets, you can teach your child the basics of number formation by letting them trace some straight or curved lines. Number tracing worksheets can help your kids fine-tune their writing and drawing abilities to build precise and synchronized motions needed for numbers and letter writing.
Is Your Child Struggling With Math?
1:1 Online Math Tutoring
Let's start learning Math!
Improves focus
To draw a line, your child must concentrate on the movement of their hands and fingers using a pencil, crayon, or marker. To successfully draw out numbers neatly on a number worksheet, a child must keep holding their pencil and continue moving it to keep up with the line. These activities help build kids' attention span and get only the best results from the action.
Boosts creativity
You can use number tracing sheets to develop your child's creative skills since they can use dots to make images. A child will understand that they can draw numbers like eight by just tracing curves. A number tracing worksheet is a great tool to assist your child in triggering their creativity so that they may draw images independently.
How to Use Number Tracing Worksheets to Teach Math in a Fun Way
Learning math can be boring to kids. They may not be able to interpret numbers in the correct sequence, but they can trace and color worksheets. So, turn the entire exercise into a work of art to get the most out of number tracing worksheets. Get colorful numbers worksheets that can encourage kids to think about numbers creatively from an early age.
Get printable number tracing worksheets so that you can make duplicates and have your child do the exercise over and over. The more a child can perfect the tracing, the more excitement they get from the activity. With a printable number tracing worksheet, your students will advance from drawing numbers with basic strokes like 1 to tracing curved numbers like 2, 8, and 9. After a child must have perfected one number, you can then move over to the next.
Number Tracing Worksheets are a Great way For Children to Learn Math
Number tracing worksheets are a great way for children to learn and practice number formation, counting, and recognition. They can be especially helpful for young learners who may not yet have the motor skills needed to write numbers on their own. By printing out tracing numbers worksheets pdfs from home or from a variety of educational websites, kids can use the tracing numbers worksheets to practice and refine their skills. The tracing numbers worksheets pdfs can be used multiple times, making them a cost-effective way for children to learn the fundamentals of number formation and recognition.
Tracing numbers worksheets pdfs often provide step-by-step instruction for each number. This can be incredibly beneficial for kids who are just starting to learn how to form numbers. When they get stuck, they can look at the tracing number worksheet pdf instructions and follow along until they have mastered the skill.
Numbers Worksheets
Need help with Numbers?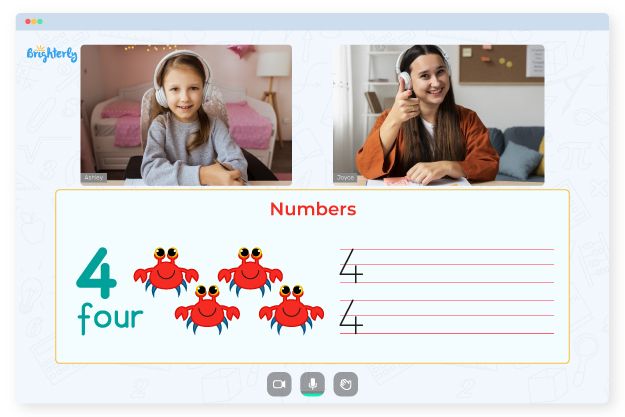 Does your child need additional help mastering numbers concepts?

Try learning with an online tutor.
Kid's grade
Grade 1
Grade 2
Grade 3
Grade 4
Grade 5
Grade 6
Grade 7
Grade 8
Is your child finding it hard to understand numbers? An online tutor could provide the necessary support.
Book a Free Class