>
>

Number Worksheets for Preschool
Number Worksheets for Preschool
When studying and doing math homework, a child can be a handful. With the help of numbers worksheets for preschool, your child will gradually build interest in math. Proceed reading to learn everything you need to know about number worksheets for preschool.
Free Number Worksheets for Preschool from the Tutors at Brighterly
Brighterly is an online learning platform that offers studying with tutors who can help kids overcome their problems with math. Using numbers worksheet for preschool kids, the tutors teach children to count and identify numbers from 1 to 10. Number worksheets for preschool serve as an excellent choice of a short in-class exercise or promotion of independent work.
Even if you cannot get a suitable worksheet for your preschooler in your local bookstore, the tutors are happy to help and recommend number worksheets for preschool in PDF format. If you want, you may go the extra mile and print the worksheets for your child to use at home.
Benefits of Using a Number Worksheets for Preschool
Most kids and even adults consider math a boring subject because of the conventional study pattern. With number worksheets for preschool, you will have a fun and exciting time. Here are some ways of how a number worksheet for preschool can be beneficial to kids:
Distracts kids from their gadgets
Some parents find it hard to get their children interested in things other than phones and television. Numbers worksheets for preschoolers are colorful, so kids will appreciate the change of activity from an iPad to a worksheet. Kids are all about the creative process, so they will drop their gadgets and pick up number worksheets if they find something that can catch their attention. With worksheets, parents may effectively limit their children's use of electronic devices.
Is Your Child Struggling With Math?
1:1 Online Math Tutoring
Let's start learning Math!
Fosters a better understanding of math concepts
Number worksheets for preschool can help kids explore math ideas and concepts. Preschool numbers worksheets can help kids improve their hand-eye coordination, reasoning, and ability to think for themselves as they get older. Number worksheets also expose children to new and more effective ways of learning, allowing them to generate ideas and put them on paper.
Provides a thrilling experience
Number worksheets for preschool can appeal to children because they require coloring and figuring out what to do next. Children see pre-K number worksheets as fun schooling activities without knowing they are learning simultaneously. And what's better than making sure that kids learn while having fun?
How to Use Number Worksheets for Preschool to Teach Math in a Fun Way
A significant advantage of number worksheets for preschool is that they are available in printable formats. That way, kids can improvise and think of new ways to solve problems in the worksheet. Also, you can easily observe students' performance on the same assignment and see if it has improved over time.
Not to make your kids feel like they are working on usual math problems rather than having fun, try not to choose complex and lengthy pre-k number worksheets. With interactive number worksheets for preschool, you can use colors and exciting activities to make learning more enjoyable.
Numbers Worksheets
Need help with Numbers?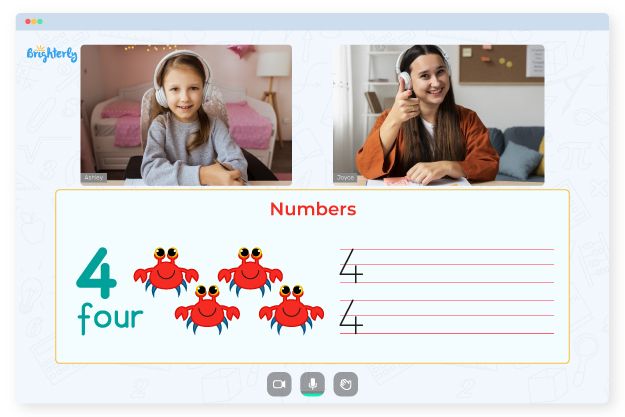 Does your child struggle with understanding the concept of numbers?

Start lessons with an online tutor.
Kid's grade
Grade 1
Grade 2
Grade 3
Grade 4
Grade 5
Grade 6
Grade 7
Grade 8
Is your child having difficulties with grasping the basics of numbers? An online tutor could be the solution.
Book a Free Class