>
>

Number Tracing Worksheets 1-20
Number Tracing Worksheets 1-20
Practice with number tracing worksheets 1-20 is ideal for your preschooler or kindergartener. These tools enhance kids' number recognition, handwriting, counting, tracing, fine motor skills, and more.
Free Printable Tracing Numbers 1-20 Worksheets in PDF
Numerous worksheets available for download are designed to bring your child's early math lessons to life. You will find fun and engaging free printable tracing number worksheets to help build your child's core skills in number formation, pencil control, visual discrimination, and rote counting.
With a dotted tracing number 1-20 worksheet outline, children learn to control and perfect handling a pencil. Worksheets are kids-friendly and can keep youngsters engaged and motivated as they continue to learn.
In the early stages of math learning, use number worksheets along with materials like play dough, counters, sticks, and glitters. This approach will allow kids to recognize numbers' shapes before they learn to write them with pencils.
Is Your Child Struggling With Math?
1:1 Online Math Tutoring
Let's start learning Math!
Use sheet protectors or dry erase markers with your number tracing worksheet and allow your kids to make errors. They will learn that mistakes are part of the learning process. Encourage children at every step of their learning with positive words despite the results. You can also reward kids for their persistence and effort.
Benefits of Tracing Numbers 1-20 Worksheets
Number Tracing Worksheets 1-20 PDF
View worksheet
Writing Numbers Worksheet 1 20
Number Tracing Worksheets 1-20 PDF
View worksheet
Free Number Tracing Worksheets 1 20
As a child learns each number, you can guide them to practice number writing as well. Thus, they will learn how to identify and write letters correctly. After, kids will begin to write two-digit number patterns and with time learn numbers up to 100.
A child will also practice rote counting: learning and memorizing numbers in their order after one another before fully understanding what these numbers mean and why they are arranged in certain ways. A number worksheet is built to improve a child's rote counting skills and will allow them to link what they are counting with real number sense.
Numbers Worksheets
Need help with Numbers?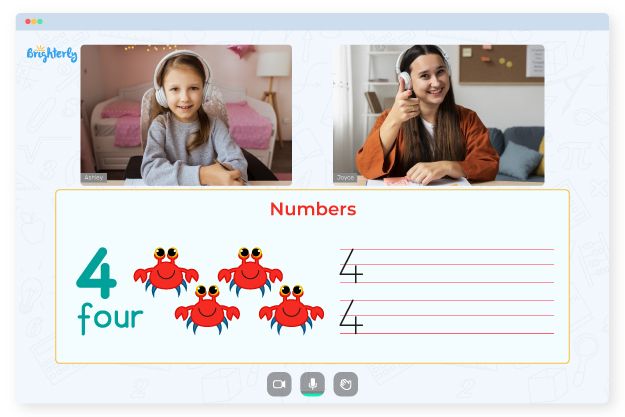 Does your child need additional help with the concept of numbers?

Start learning with an online tutor.
Kid's grade
Grade 1
Grade 2
Grade 3
Grade 4
Grade 5
Grade 6
Grade 7
Grade 8
Is your child finding it hard to master numbers concepts? An online tutor could provide the necessary support.
Book a Free Lesson